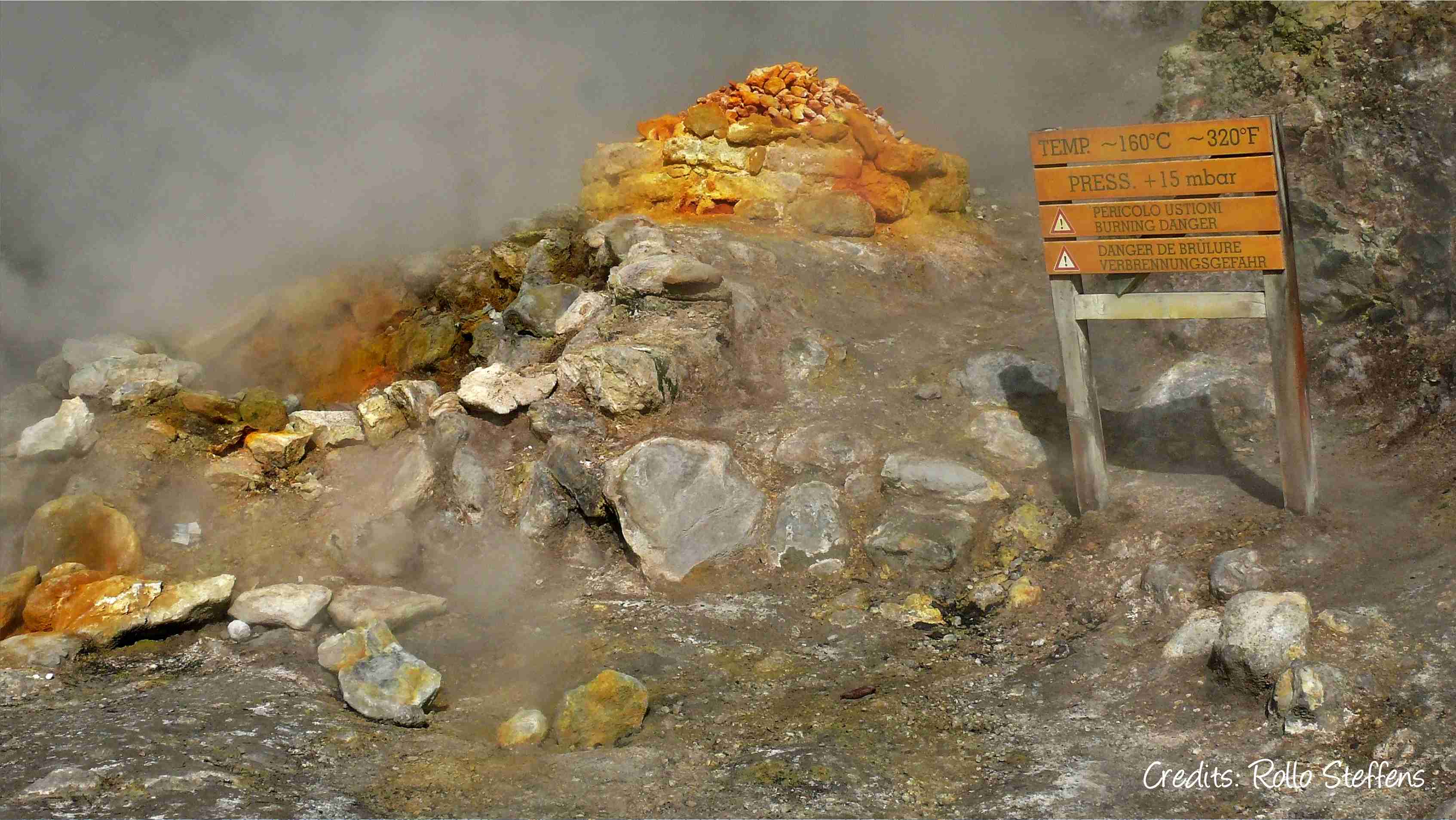 The Phlegraean Fields are a volcanic area located north-west of the city of Naples. It is a territory with a unique structure: there is no typical volcano with a truncated cone shape, but a vast (12x15 km) depression. The last eruption dates back to 1538, after a dormant period of three thousand years. Since then the territory was affected by bradyseism: gradual uplift or descent of the ground surface, constantly monitored by the nearby Vesuvian Observatory.
The Phlegrean Fields were the first mainland area colonized by the Greeks: the Greek word Flegraios means ardent. The name "Burning Fields" was not related to the volcanic or thermal activity: according to the myth, the region was the battleground between the Gods and the Giants, who were defeated during their attempt to climb mount Olympus.
This volcanic area located west of Vesuvius suited well the imagery of a divine battlefield because of its particular landscape: the geological phenomena, even nowadays, show a moving soil from which steam puffs and thermal water come out. The hilly landscape of the area between Cape Miseno and Cumae is a consequence of eruptions and earthquakes: low craters deformed by the sea erosion or surrounding small ponds.
This wonderful landscape is made unique by the variety of shapes, the bright coves and the dense vegetation: the fertility of the ancient lava flows is responsible for the lush chestnut trees and vines growing in the area. The beauty of this region was even lauded by Greek legends and in the myths written by Homer and Virgil, which rapidly spread from these shores throughout Italy; emperors and the Roman aristocracy built sumptuous villas there and made the village of Baia the most luxurious spa resort in antiquity.
It is not difficult, therefore, to understand why the region became an obligatory destination for any traveller coming to Italy and an indispensable addition to the visit of Naples, as shown in the pictures of 18th-century painters, which replaced the engravings, very common in the 16th century.
Before the discovery of Pompeii and Herculaneum, the Phlegraean Fields were the only place offering the closest and most fascinating contact with the ancient times.
Pompei Experience gives you the opportunity to enjoy the special charm of this area through one of our tours. Half or full day dedicated to the exploration of natural wonders and of antiquity.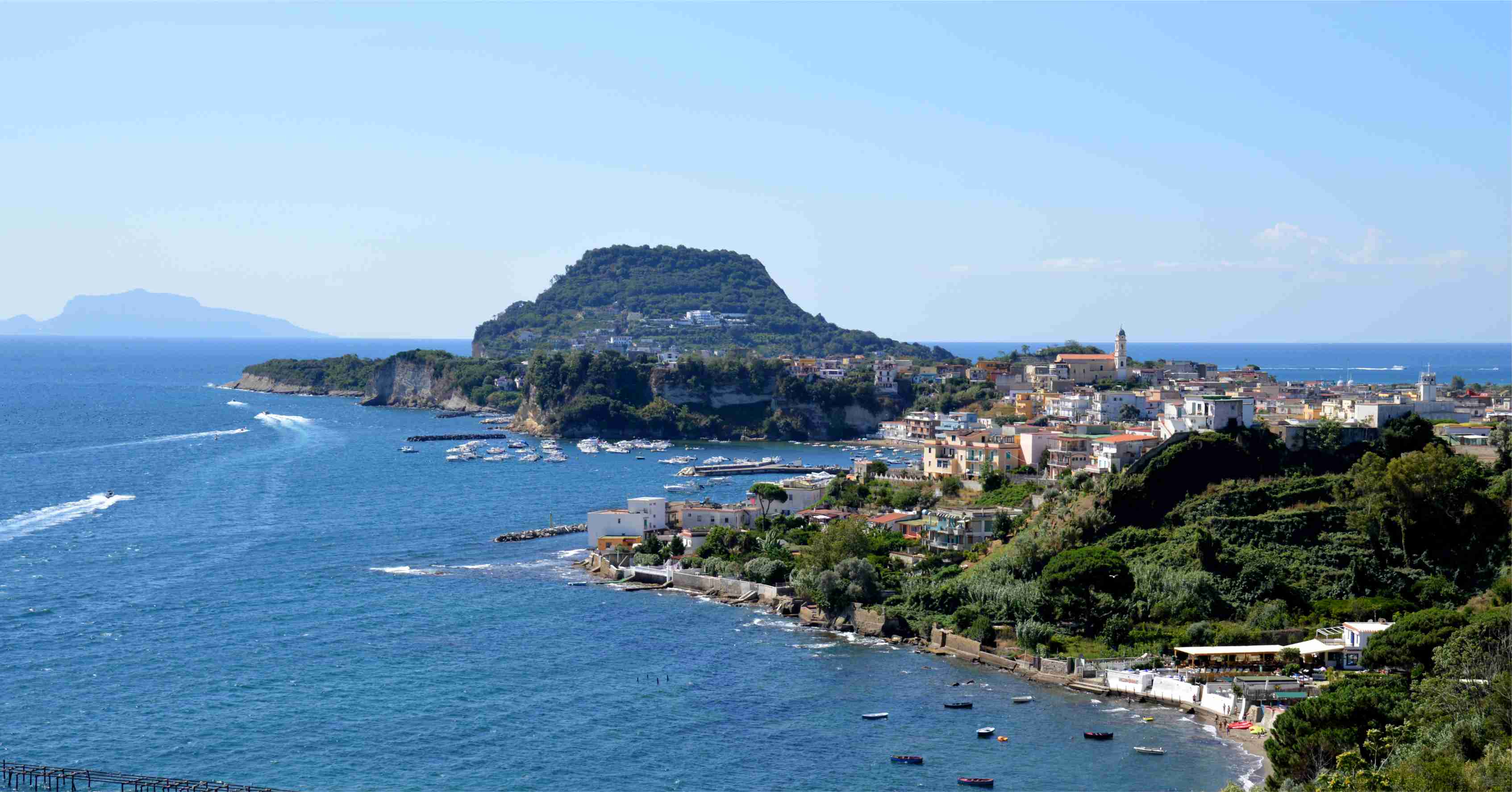 Tour 1 (full day)
Visit of the Solfatara volcano, the amphitheatre of Pozzuoli, Cumae and the famous cave of the Sibyl, lake Avernus, Serapis temple.
Tour 2 (full day)
Visit of the Baia thermal baths, Piscina Mirabilis, Cumae with the cave of the Sibyl, amphitheatre of Pozzuoli, lake Avernus.
Tour 3 (half day)
Visit of the Solfatara volcano, amphitheatre of Pozzuoli, Serapis temple.
Tour 4 (half day)
Visit of Cumae, cave of the Sibyl, lake Avernus.